Meet Morgan! The Girlboss Behind Salt + Light Coffee Co
Last November, The Cleveland Flea hosted their very first Friendsgiving Flea at The Madison. This is where I first met Morgan, founder & coffee master of Salt + Light Coffee Co. Morgan had whipped me up a coffee float! YOU GUYS if you have never thought about combining the two greatest things into one drink.. THINK AGAIN. Salt + Light was serving this delicious float that consisted of pumpkin ice cream and coffee with this amazing whipped cream on top (I am inserting the evidence).
After my inner foodie was very much satisfied, I followed Salt + Light on Instagram and fell in love with the ethos of the company and how Morgan created an socially driven business. Enjoy our chat with Morgan!
We Asked & Morgan Answered
How did the idea of starting Salt + Light Coffee blossom?
The idea of Salt + Light Coffee Co blossomed when I was fourteen years old! Direct Trade and Fair Trade really became popular around that time and I immediately took an interest in the up-and-coming, socially driven businesses! I began researching and I learned about the injustices that the coffee farmers face every single day and I knew that I had to do something about it!
What is the most exciting thing you've done with Salt + Light?
I am currently working on the most exciting thing I have ever done! Salt + Light Coffee Co. is raising $4,000 dollars to provide children in Thiotte, Haiti with meal kits. We also are hosting a party for all of our coffee farmers and anyone else who wants to join us! Our goal is to bring joy into their lives by hosting the biggest party they have ever been too!
When you started Salt + Light, were you always going to run your business with a socially charged mission?
The concept of Salt + Light Coffee Co. developed out of a passion to empower coffee farmers in Haiti. So yes, the reason why I started my business was because I had a socially charged mission. Our mission is to empower coffee farmers, the business is our vehicle to do so.
What inspired you to work with Haitian Farmers?
I became friends with an international student from Haiti while I was in high school. Her uncle is the owner of a coffee company in Haiti and it was through her that I made the necessary connections to start my own direct trade coffee company. I became passionate about helping the coffee farmers in Haiti after I spent a few weeks in Haiti and saw first hand how labor intensive, low paying and overlooked Haitian coffee farmers were.
How do you choose which farms you partner with in Haiti?
I was lucky enough to have connections with people high up in the Haitian coffee industry. They were able to connect me with my farmers!
What is your advice for creating an ethically rich brand on and off social media?
Share your story! A story speaks louder than a good price, or even good branding and it is what sets you apart from all the others. People are looking for more creative, unique businesses that have a powerful story behind them!
What has been your proudest moment in your business journey thus far?
One of my coffee farmers, Mariane, held my hand and said "I thank God for you and your business." I wouldn't say that I necessarily felt proud, but rather fulfilled. It was the first time I realized the impact my business was making!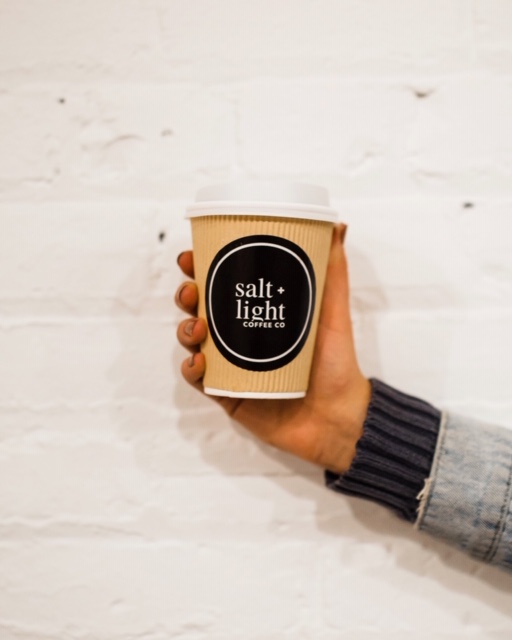 Explain a day in the life of Morgan?
My schedule is usually very random! Most of my mornings are reserved for myself. I typically drink coffee, do my devotions & work out during that time. Then my afternoons and evenings get filled with meetings, shipping out coffee orders, keeping up with social media, communicating with our coffee farmers and everything else that running a business entails.
Have you faced any bias as a female business owner?
Honestly, not really! Occasionally I feel intimidated and insecure as a female business owner, but I know that all stems from my own insecurities. However, I do feel that people tend to question me as a business owner because I am young and super new to the business world.
What is one hardship you have faced running Salt + Light and how do you overcome it?
The hardest thing for me is finding a balance in separating my emotions and my work. It's easy for me to get my emotions wrapped up in my social justice work and it's hard to overcome the feelings of not doing enough. I tend to feel like the weight of the world is resting on my shoulders!
Who do you look to for inspiration when you are feeling the pressures of business ownership?
I have been blessed to be surrounded by a strong support group consisting of friends & family. They lift me up when the weight of running a business is to heavy for me to carry by myself.
What does your support system look like?
My friends are the best friends I could ever ask for! They constantly support me through prayers, encouraging text messages and being equally as passionate about Salt + Light Coffee Co.
How do you see Salt + Light growing over the next 5 years?
Salt + Light Coffee Co. is looking to expand into a brick and mortar location within the next five years! There is a good chance we will also branch out and add on a new single origin, farm-to-cup line of coffee.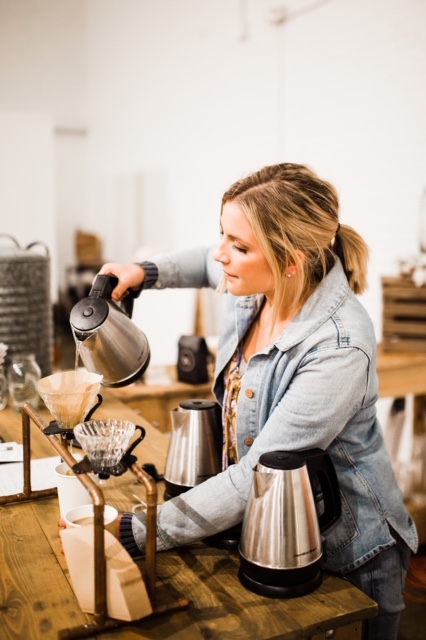 What is your advice for any aspiring business owner
Just get started! Don't allow yourself to be weighed down by the details and paralyzed by the fear of failing. You will experience the most success in your life when you follow your passion and do not allow others to dictate your future!

Bean or Ground?
For sure whole bean! I can't stand pre-ground coffee!
French Press, Pour Over or Drip Coffee?
Pour overs all day every day.
Light, Medium, or Dark Roast
I appreciate all roast, however I tend to lean towards medium-dark. It depends on my mood!
Black or with Cream
Die-hard black coffee drinker since 2003 (I was six years old!!)
Sugar. Yay or Nay
Nay!
Coolest Drink you've made with your coffee?
Any of our floats! I have done a Dirty Coke Float that was pretty crazy. Coca-cola, cold brew, vanilla ice cream & vanilla syrup. It's safe to say that it is a heart attack in a cup, but it's definitely worth it!
Any tips on brewing the best cup of coffee?
Buy whole bean coffee and use purified water!
Where can we buy Salt + Light Coffee
Online! (www.saltandlight.coffee)
Help Morgan By Donating to Her Cause
Deadline is April 1st.
https://www.gofundme.com/jdf9w8-empty-bellies-open-hands
It's been on my heart for a long time to help feed the children in Thiotte, Haiti. Thiotte is so far removed from the cities that no aid reaches them. There are no nutrition clinics, feeding programs or organizations in Thiotte! Salt + Light is doing our part in feeding the hungry children by providing meal kits that have rice, beans, bananas, cooking oil & corn in them. While we are handing out the meal kits we will have games, musics, snacks & toys for the children as well. We want everyone to feel celebrated & loved! The president of my coffee association in Haiti brought this need to my attention. He had been feed 300 kids all by himself! We are currently working with him on a plan for a long term feeding program ran by the locals!